Hi people,
I am sometimes one of those people, who love to watch short videos (not more than 5 mins…short attention span.. LOL). Whenever i get free time, I surf through the net and watch some hatke videos. I would like to introduce you to WatchCut, which is a group of people, who have released a series called "100 years of Beauty", where they have women depicting styles of over a century of different countries.So Today I have for you, six – one minute videos which is a time lapse of a model getting her hair and makeup done to match every decade from 1910 to 2010.  So check these videos out.
1.INDIA
Being an Indian myself, i like the way they have gone throughout the different eras of beauty trends in India from minimalist look of 1910's to the glam look of 2010. The looks include different kind of updos, mehendi design, Indian Jewelry and the Bhindi. I'm sure by the end of the video, we will all remember all our beautiful actress starting from Madhubala, Madhuri Dixit to Kareena Kapoor.
2.MEXICO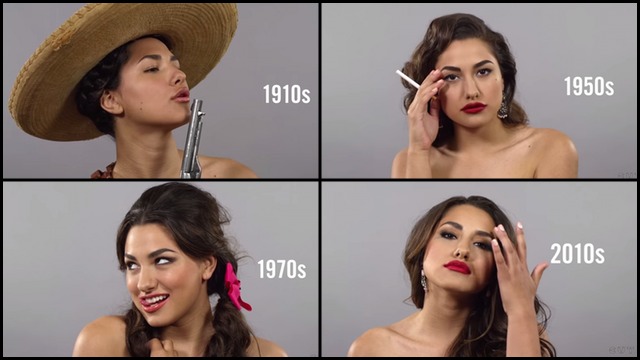 This video features model Reyna Marquez, portraying the journey of Mexican style, from 1910's Mexican Revolution through the contemporary period. Check her out in 100 years of beauty – Mexico. I just love her.
3.USA
When you think of Marilyn Monroe, you can always remember her perfectly painted red lips, the mole on her cheek,her iconic hairstyle and the famous "skirt scene". In this video featuring Nina Carduner,as said by the Huffington post: she "travels" through different beauty styles from 1910 to 2010 all in one minute.
4.PHILIPPINES 
The video features model April Villanueva featuring style evolution of Philippines showing trends like tribal tattoos and shell headpieces,glamorous updos, big bouffant hairand finally beach waves and natural makeup.
5. IRELAND
Buonasera! This video featuring Mackenzie Altig , portray style revolution in Italy. Ohhh! those voluminous updos to the half down curls, to the fishbraids…. This gives me major hair goals. Love it.. Ciao!
6. RUSSIA
This Video features Model Anya Zaytseva .She and her team of hair and makeup artists show off different style trends like pearl adorning, bandana, fur cap etc. This video shows style evolution in Russia
From Updo's to beach Waves, red lips to smoky eyes, it's all so gorgeous!
You can see many more such videos at WatchCut. Hope you had fun watching them !